Joe Crookston
"At every Festival, I hope to find the gift of one artist whose songwriting and performance really stands out. Joe Crookston was that gift for me this year at the Philadelphia Folk Festival … Stunning performance, great songs … and not a word wasted. I love that!"
— David Francey, multi-Juno Award Winner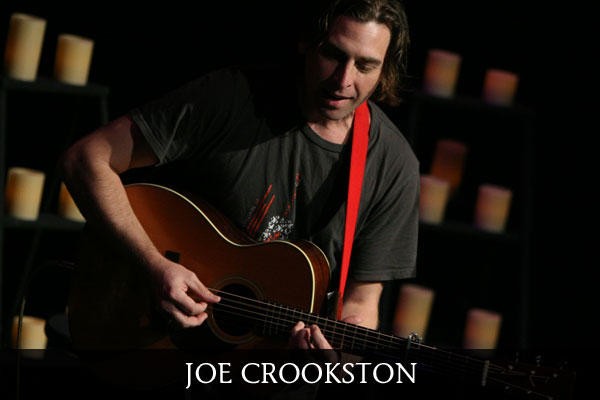 Stomping Loud in Minor Keys and Story Songs and Jubilee
Awarded "Album of the Year"
by the International Folk Alliance in Memphis, TN
He loves his audience.
He creates magic at every show.
It's palpable in the room.
Joe Crookston's highly-anticipated concert launched the 7th season of "Folk Night at The Registry" in Kitchener.  Joe captured the audience from the opening seconds, and held them spellbound throughout the show.  Many of his songs were familiar from their regular appearances at our local song circle, and Joe's invitation to sing along was heartily embraced by the audience. His show at the Kitchener Theatre was an evening of sharing and community, and was perhaps the finest concert I've presented in 16 years.  Joe is sure to build on that community wherever he performs. – From Jack Cole, Registry Theatre Kitchener Ontario
This is not reviewers hype…this guy is flat out good"
— Rodger Nichols of The Dalles Oregon Chronicle
We of course already know Joe Crookston. His earlier show at 2nd Saturday was the best concert I have ever seen there in my 30+ years of attendance". – Tom Yeager, Songbird Sanctuary
With all the performers out there, an artist has to go beyond good…and Joe does."
— Sing Out Magazine
Joe Crookston is decidedly one of today's standout troubadours. On Darkling & the BlueBird Jubilee, he sings the heart pure, he sings the soul holy, he sings the mind unshackled, and he sings the world loud and true." ––Roots Music Examiner
Artist Links
Publicity Poster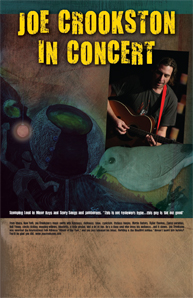 High Res Photos
Solo
Duo
Audio
Video
Riders & Stage Plots
Paintings
"At every Festival, I hope to find the gift of one artist whose songwriting and performance really stand out. 
Joe Crookston was that gift for me this year at the Philadelphia Folk Festival…. 
Stunning performance, great songs…and not a word wasted. I love that!"  
~ David Francey