the olllam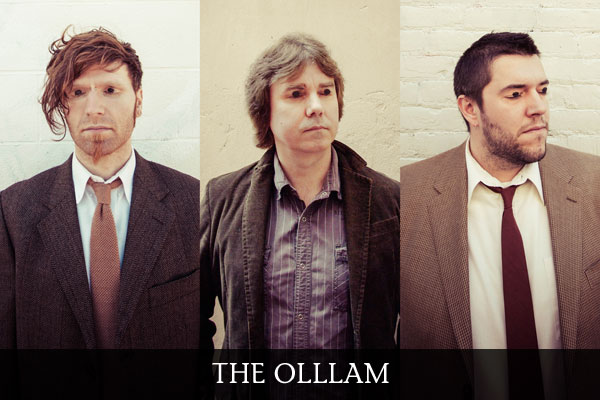 "The stunning new collaboration between living-legend uilleann piper John McSherry, founding member of Lunasa and At First Light, alongside Tyler Duncan and Michael Shimmin, members of the two-time International Acoustic Music Award winning band Millish"
"A combination of tradition and technology that puts the listener somewhere between radiohead and Planxty, with the ambient emotionalism of Nick Drake or Explosions in the Sky."
"Pushing several fronts at once, this album does not easily fit into any standard music category. Is it traditional, avant-garde, improvised, hypnotic, jazzy, or just cool-to-listen-to? One thing I do know. I want to get "the olllam" into rotation on the CD player in my car ASAP." – Michael Erlewine, Founder All-Music Guide
D. Kitchel VINE™ VOICE

"Ainm sé rud ar bith," a deir an tOllamh. "Call it anything" says the master.

I've been listening to ".the olllam." for several days, off and on. It's the kind of musical collection you want to have in your car, but then in the car, you realize you want to hear it on the "real audio system" at home. And so I've gone back and forth, listening at home, in the car– I find myself humming, or riffing-in-my-head on, the belll, the follly of wisdom, or the bridge of glllass. (And yes, the songs all have a trio of "L"s. )

The music is by turns, spare then lush, loose-and-flowing then tight-and-punchy, lyric then driving. In this way, the olllam blend the melodic irish-traditional with the Mulligan-ish jazz counterpoint. This is amazing when one considers they composed and recorded much of the music over the internet. My desire to connect this to some other music kept intruding on my ability to just enjoy it. I had the nagging sensation that it was connected to something other than "trad" music, or Radiohead. Sure the music has some of the upbeat energy of Planxty, and some of the hypnotic, trancy repetition of Radiohead. However, the jazz connection just feels deeper to me, and I come back to Miles Davis, and the way his music can have that space, almost emptiness, and yet seem primal, and can be really driving, but have an organic kind of counterpoint that is so jazz, so Miles.

So I had to go and get out Rocker and listen to it. Also, I think the Rhodes has a lot to do with my linking it to Miles. Anyhow, if you like Irish Traditional (or Celtic) *and* you like Jazz, especially of the Mulligan Quartet, Miles Davis, Mingus variety I feel pretty certain you will enjoy this.
More Reviews
http://tradconnect.com/profiles/blogs/review-the-olllam-john-mcsherry-tyler-duncan-michael-shimmin
http://www.hearthmusic.com/blog/celtic-trad-delights–a-grab-bag-of-reviews.html
Artists Links
Tour Schedule (coming soon)
Publicity Poster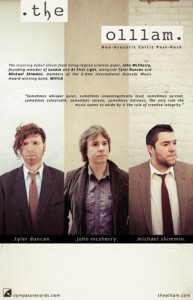 High Resolution Photos
Audio
Video
Riders & Stage Plots